Our Mission
We are a Catholic Community, by the Grace of God, Living and Celebrating Jesus Christ, Making Disciples Through the Word, Sacraments, and Our Witness.
---
Why I Chose Holy Cross
"Once a Holy Cross kid, always a Holy Cross kid."
~ Fr. Carl Salanitro
Ask Fr. Salanitro one question "Of all the parishes you've been assigned, what's special about Holy Cross?" Then be ready to sit back and enjoy stories of his first assignment here as a young priest and why he chose to come back 32 years later as our Pastor.
Fr. Salanitro' s fondness for the Holy Cross area started as a kid when he and his family would enjoy Sunday afternoons driving around the Morton Meadows area to admire the unique streetlamps, tidy brick homes and tree-lined streets.  His first experience inside Holy Cross Church was while working as a delivery boy for a local flower shop.  He delivered flowers for a wedding and secured them to the pews using tape, which at the time seemed like a good idea.  The pastor did not agree, tore them all off and tossed them in the back of the Church, all the while scolding a startled Carl.  A few years later he was back inside Holy Cross Church, this time as a deacon, to deliver a homily, when this same pastor invited him to stay for breakfast.  Most likely the pastor saw in Deacon Salanitro what we have all come to appreciate in Fr. Salanitro - his ability to dig into Scripture and bring it to light in homilies that are insightful, relevant, and applicable to our daily lives.
Father's first assignment at Holy Cross was from 1970-1973.  At that time, living in the Rectory were four priests and a housekeeper.  Homemade kolaches, Saturday night confessions followed by big dinners with guests and Mass with the Mercy nuns.  Fr Edward O'Donnell's wit and sense of humor, the sense of community with his fellow priests, and the family-orientated Parish and school provided not only treasured memories but also why Holy Cross became the standard for all his assignments.  They are also why Fr. Salanitro says 32 years later he returned.  We say, Welcome home Father, because you know "once a Holy Cross kid, always a Holy Cross kid."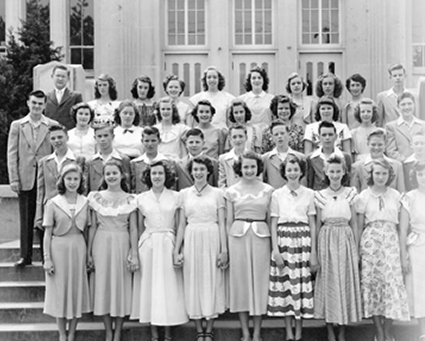 Nearly a century has passed since Holy Cross became a parish of the Omaha Archdiocese in September of 1920.
The first church building, located at 5065 Center Street, was completed early in 1921. Decades before environmental awareness, the church owed much to recycling. The small frame structure was built mostly of second hand lumber. A fireplace salvaged from the Boyd Theater at 17th and Harney Streets was refashioned as the main altar; a stairway banister from the theater became the altar rail. The collaborative elbow grease of parishioners yielded pews, confessionals and window screens.
From an initial membership of 40 families, Holy Cross had grown to more than 400 families by the autumn of 1928 when property at 48th and Woolworth Streets was purchased with an eye to beginning a school. Not until spring of 1936, however, did construction get underway. Ground was broken on March 23rd, for the new building, which included classrooms and, on the lower level, a larger "temporary" church that served the parish until 1955.
Rev. John Kelly, founding pastor of Holy Cross, was succeeded in 1922 by Rev. Thomas Healy. Rev. John Paschang served as pastor of Holy Cross from 1927 until his consecration as Bishop of Grand Island in October of 1951. Under Monsignor Edward Appelbaum, the next pastor of Holy Cross, the new church was completed in 1955 and the school enrollment peaked at 1,475 students in 1959.
Succeeding Monsignor Appelbaum in 1970 was Monsignor Edward O'Donnell. The preceding pastorates had recorded remarkable growth and expansion, both in membership and property; Monsignor O'Donnell's pastorate was notable for uncommon spiritual prosperity.
Rev. Charles Swanson was named the new pastor of Holy Cross upon Monsignor O'Donnell's retirement in 1993. With Fr. Chuck's arrival, the parish has shown a theme of welcoming and stewardship. From greeting visitors at the start of Mass to beginning the now annual Spaghetti Dinner, Fr. Chuck emphasized reaching out to one another, and our neighbors. He initiated the Stewardship Program to encourage people to give of their time, talent and treasures. Believing in Stewardship himself, Fr. Chuck volunteers as Chaplain for the Omaha Fire Department and the Omaha Police Department.
Fr. Carl A. Salanitro was named pastor to Holy Cross in 2004 after asking Archbishop Elden Curtiss. This is his second time being assigned to Holy Cross. Fr. Salanitro was appointed to Holy Cross as an associate pastor from 1970-1973, where he found the parish so helpful for his early years of priesthood. As pastor, Fr. Salanitro seeks to continue the ministry of his predecessors.
In 1995, Holy Cross Parish celebrated its 75th Anniversary year and during the 2011-2012 school year Holy Cross School celebrated its 75th Anniversary year. Fr. Salanitro looks forward to the future, building community and continuing evangelization within our parish.